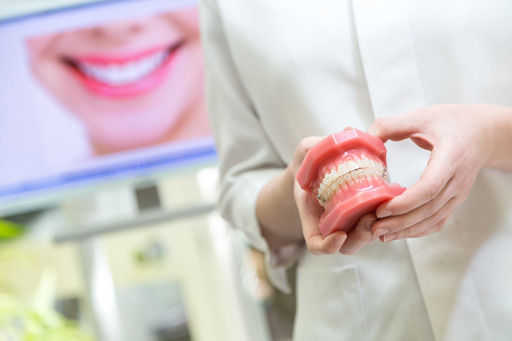 At Hyde Park Dental we are excited to offer our clients the latest in orthodontics. Dr Lucas and Dr Mulvihill both offer Smilefast and Invisalign which are both fast, aesthetic and affordable teeth straightening systems.
Smilefast
Smilefast is a revolutionary new cosmetic orthodontic treatment for adults designed to give a significantly improved smile in 6-9 months. No need to hide your smile whilst wearing braces as Smilefast uses clear brackets and white wires designed to suit your lifestyle, so you can have a confident and affordable smile.
How it Works
Smilefast provides your dentist with a 3D digital model of your teeth. This model identifies the precise position to place each bracket on you teeth, which is the most important aspect to obtain rapid tooth movement. These braces are then accurately transferred to your mouth via Smilefast's transfer trays. With this technology your dentist can rapidly, yet safely, straighten your teeth. Smilefast braces are very discreet, using clear brackets and white wires which blend seamlessly with your teeth. No more chunky metal braces.
Am I suitable?
Smilefast is designed for adult patient's needs- to have a great smile in a short period of time. Smilefast can treat a wide variety of common orthodontic issues including crowding, spacing, crooked teeth, protruding teeth and more.
If you identify with any of the above issues, Smilefast may be an ideal option for you
.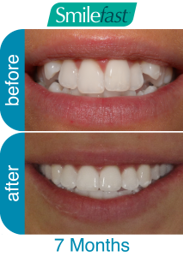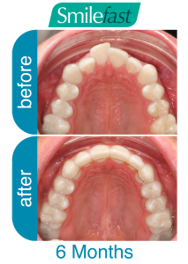 Contact us today to discuss your particular concerns and how SmileFast can benefit you.
Invisalign
Invisalign is a virtually invisible solution so you can smile during as well as after treatment. In fact, virtually no one will know you're wearing them unless you tell them. By using a series of clear, removable aligners, Invisalign straightens your teeth right before your eyes. Change them about every one to two weeks and your teeth will move - little by little - towards the smile you have always wanted.
How it Works
Invisalign uses 3D computer imaging technology to map the complete treatment from start to finish. From this plan, a series of custom made aligners unique to your treatment is produced. Each aligner is worn for about two weeks and gradually moves your teeth, before being replaced by the next in the series until the final position is achieved.